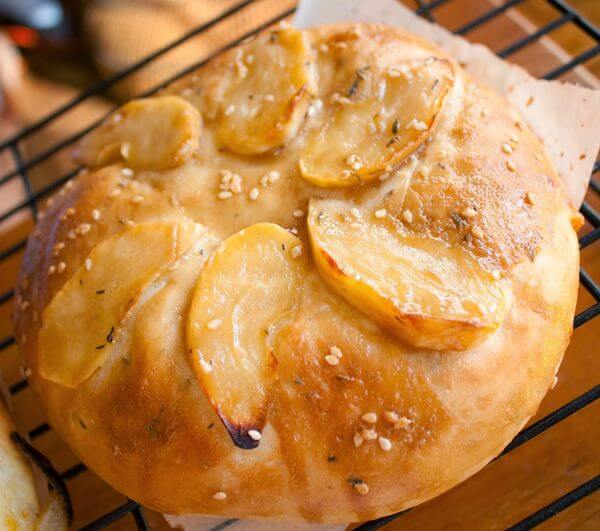 Ingredients
Caramel Sauce:
1 packed cup brown sugar
1/2 cup half-and-half
4 tablespoons butter
Pinch salt
1 tablespoon vanilla extract
Focaccia:
1 cup warm water
1.5 tsp dry yeast
1 tsp sea salt
2 tsp sugar
3 tsp dried rosemary
1 tsp Italian seasonings
3 tbsp olive oil
2.5 cups bread flour
Other:
Directions
Apples:
Sautee apple slices in butter until soft (don't worry if your apples aren't completely cooked, it will be baked for another 30 mins in the oven!)
Set aside
Caramel sauce:
Mix the brown sugar, half-and-half, butter and salt in a saucepan over medium-low heat.
Cook while whisking gently for 5 to 7 minutes, until it gets thicker.
Add the vanilla and cook another minute to thicken further.
Turn off the heat and set aside
Foccacia (final product):
Add all of the bread ingredients to the bread machine except the flour. Add the flour on top of the mixture. (or as specified by your bread machine.) Select dough setting.
Pinch off a piece of the dough, flatten it out on a piece of parchment paper, arrange sautéed apples on top, cover loosely with plastic wrap, let rise until doubled
Bake on a baking sheet or cast iron skillet (preheated would work out well!) in 450 degrees oven for 25 minutes
Brush on caramel sauce and sprinkle with some sesame seeds, return to oven, bake for 5 more minutes
Remove from oven and brush on more of the caramel sauce.