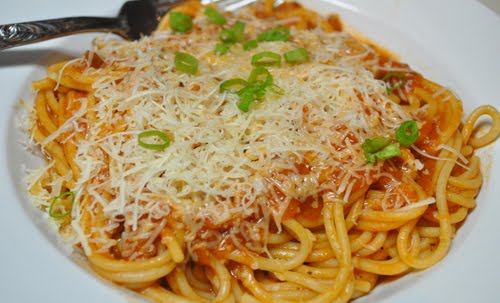 Leave your standard pasta recipes on the back burner the next time spaghetti night rolls around and replace it with the spicy and invigorating Cajun Pasta instead. The Cajun Pasta puts a southern twist on standard spaghetti by including spices like cumin and cayenne pepper to add new life to your pasta while still including staple spices of thyme, sharp garlic and basil. The standard spaghetti noodles in this dish provide a spot for the delicious sauce to stick to and soak into, making every bite one bursting with flavor. Creamy cheese puts a familiar finishing touch on this pasta dish.
Ingredients
Sauce:
4 tablespoons butter
1 medium onion, very finely chopped
4 cloves garlic, sliced into 4 pieces
2 teaspoons minced garlic, about 2 large clovesSeasoning Mix:
2 teaspoons fine sea salt
2 teaspoon dried thyme
1 1/2 teaspoon ground cayenne pepper
1 1/2 teaspoon white pepper
1 1/2 teaspoon ground black pepper
1 teaspoon garlic powder
1 teaspoon ground cumin
1 teaspoon dried basilRemaining Ingredients:
4 cups canned or homemade vegetable broth
2 tablespoons Worcestershire sauce
1 tablespoon plus 1 teaspoon Tabasco sauce
1 28-ounce can crushed tomatoes or tomato puree
2 tablespoons sugar
2 cups chopped green onion, optional
1 pound linguine or spaghetti
Freshly grated Parmesan cheese, for serving, optional
Directions
Heat the butter in a Dutch oven or large saucepan on medium-high heat. Add the onions and sliced garlic and sauté for 10-12 minutes, stirring occasionally, until the onions are golden brown. While the onions are sautéing, stir together the ingredients of the seasoning mix. When the onions are browned, stir in the minced garlic and seasoning mix and continue cooking until the onions are dark brown, about 5 minutes more. Stir in the broth, Worcestershire and Tabasco. Bring to a boil, reduce heat and simmer for 10 minutes. Stir in the tomato puree, sugar and green onions. Bring to a boil and then reduce heat and simmer, uncovered for about 40 minutes.
When the sauce is almost ready to serve, cook the pasta according to package directions. Drain. Stir the cooked pasta into the sauce. Cover and set aside for 10 minutes, to allow the pasta to absorb some of the sauce. Serve, sprinkling each serving with grated Parmesan, if desired.
Makes 8 servings.