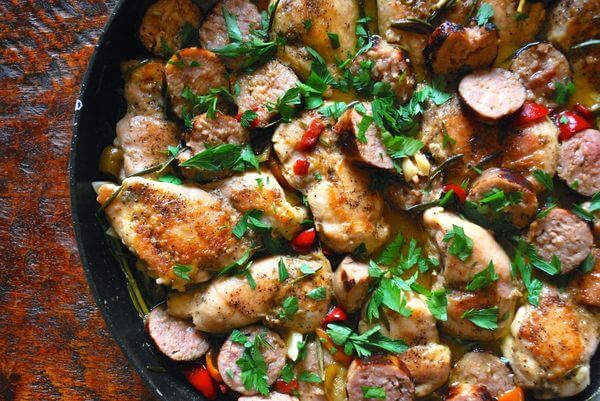 Ingredients
8 small boneless, skinless chicken thighs (2 pounds)
Salt and freshly ground pepper
All-purpose flour, for dusting
1/2 cup extra virgin olive oil
8 garlic cloves, halved lengthwise and lightly smashed
4 large rosemary sprigs, broken into 2-inch pieces
1 3/4 cup chicken stock or low-sodium broth
1/2 cup dry white wine
2 tablespoons fresh lemon juice
1/2 cup sweet cherry peppers, sliced
Optional: 1/2 pound cooked and sliced sweet Italian sausage, (2 large links)
Directions
Season the chicken with salt and pepper and dust with flour. In a large skillet, heat the oil until shimmering. The pan should be hot enough so that the chicken sizzles immediately when it is added. Add the chicken and cook over high heat, turning once, until browned and crusty on both sides. This should take about 10 minutes, depending on how crowded the pan is.
Add the garlic and rosemary and cook for 3 minutes until the garlic is lightly browned. Transfer the chicken to a platter or cutting board, leaving the garlic and rosemary in the skillet.
Add the stock and wine to the skillet and cook over high heat, until reduced by half, about 5 minutes. Add the lemon juice and butter and swirl until combined.
Return the chicken (and add sliced sausage if using) back to the skillet. Add the peppers and cook, turning the chicken so it's fully coated in the sauce, about 3 minutes. Plate the chicken, spooning sauce on top, and serve with crusty bread.