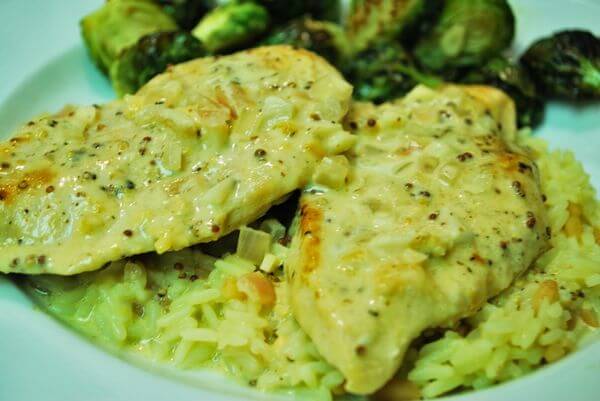 Ingredients
2 boneless, skinless chicken breasts
2 tablespoons olive oil
2 tablespoons butter
3 whole garlic cloves, minced
1 medium shallot, diced
1 cup white wine
1 teaspoon (heaping) Dijon Mustard
1 teaspoon (heaping) Grainy Mustard
1 teaspoon Spicy Brown Mustard
¼ cup heavy cream
¼ cup chicken broth
Salt and pepper, to taste
Directions
Cut the chicken breasts in half lengthwise so that you have four smaller, thinner chicken cutlets. Salt and pepper both sides.
Heat oil and butter in a large skillet over medium-high heat. Cook cutlets on both sides until nice and golden brown and cooked through. Remove chicken from the skillet and keep on a plate.
Reduce the heat to medium. Add the shallots and garlic to the pan and sauté it for a minute, stirring to make sure it won't burn. Next pour in the wine and cook until it's reduced by half.
Add in the mustards and stir to combine, then pour in the cream. Stir in chicken broth, adding more if the sauce seems too thick. Taste sauce and adjust whatever you think it needs.
Add chicken breasts back to the pan, nestling them into the sauce. Allow sauce to cook for another few minutes, shaking the pan if needed to move things around.
Serve chicken over rice pilaf, spooning the sauce over the top.