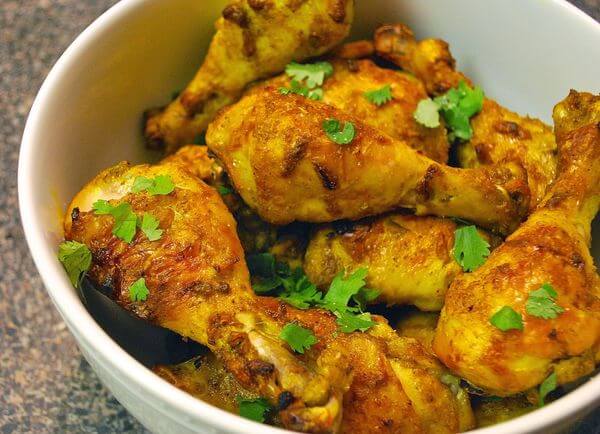 Ingredients
10-12 chicken thighs and/or drumsticks, skin on
1 14.5 ounce can coconut milk
2 tablespoons curry powder
1 tablespoon turmeric powder
2 teaspoons kosher salt
1 teaspoon ground ginger
¼ teaspoon ground cardamom
2-3 hot peppers, finely minced or sliced (I used 1 jalapeño, 1 serrano and 1 cherry pepper)
1 shallot, finely minced
Juice of 1 lime
Zest of 1 lime
Cilantro, for garnish
Sea salt, for garnish
Directions
First, marinate your chicken for at least an hour or two. Combine your coconut milk, curry powder, turmeric, salt, ginger, cardamom, peppers, shallot, lime juice and lime zest in a bowl. Place your chicken pieces in a bag or large, shallow dish and pour the marinade over top. Refrigerate for an hour or two, or as long as overnight. The longer the better!
Preheat the oven to 400F. Line a rimmed baking sheet with foil, then place a cooling tray inside the pan, if you have one – this will help the chicken stay dry and, therefore, crispy. If you don't have a tray, it's fine to just put the chicken directly in the pan, but it won't be quite as crispy.
Line the chicken up on the tray, and bake for 20 minutes. Flip the chicken and bake for another 20 minute. Flip the chicken a final time and bake for another 15-20 minutes, until crispy. Turn the oven up to 425F for this final step if you want to speed things up a bit.
Once golden and crisp, remove from the oven, place in a bowl and garnish with cilantro and sea salt. Serve with a simple salad or some naan.