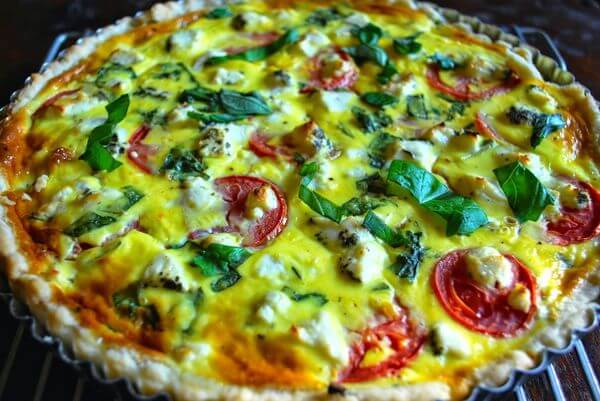 Ingredients
1 frozen pastry/pie crust, or homemade
2 tablespoons olive oil
1 small yellow onion, peeled and finely chopped
1 medium garlic clove, peeled and minced
2 teaspoon fresh thyme, minced
2 teaspoons lemon zest
Kosher salt and freshly ground black pepper
4 large eggs
1/4 cup sour cream
1/4 cup whole milk
3 tablespoons minced basil, divided
4 firm-ripe plum tomatoes (Roma tomatoes)
3 ounces soft goat cheese
Directions
Preheat oven to 375 degrees and position an oven rack in the bottom third of the oven. Lightly butter a 10-inch tart pan with a removable bottom and set aside.
Place a large skillet on the stove over medium heat and add the oil. When the oil is shimmering, add the onions and cook until tender and almost caramelized, about 10 minutes. Add the garlic and cook until fragrant, about 1 minute. Stir in the thyme and lemon zest, taste and adjust seasoning with salt and pepper. Set aside to cool.
In a medium bowl, whisk to combine the eggs, sour cream, milk, 2 tablespoons basil, salt and pepper.
Spread the onion mixture over the bottom of the tart. Arrange the tomatoes in a single layer on the top of the onion mixture. Pour the filling over the top, sprinkle with goat cheese and transfer to the oven to bake until the edges are golden brown and the filling is set, 30-40 minutes. If the filling might appear watery around the tomatoes, check for doneness in another area.
Transfer the tart from the oven to a wire rack and allow to cool slightly. Remove the side of the tart pan by placing the pan on a can or a bowl and allowing the side to drop. Move the tart to a flat surface and slice into wedges. Garnish with remaining basil.