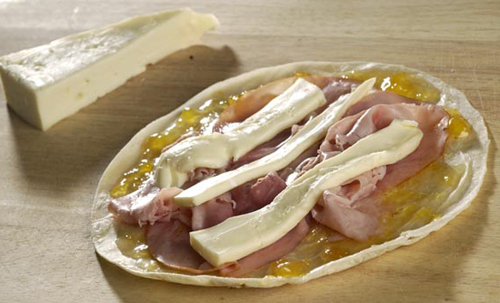 Quesadillas are one of the most versatile of foods that comes from south of the Mexican border, and they have the ability to be altered in just about any way that you want. These Ham and Brie Quesadillas put a more modern, sophisticated spin on standard quesadillas by combining a complex blend of flavors into one. Instead of standard white cheese, this recipe uses soft, gooey brie that blends with the savory flavor of thickly cut ham. Smear the peach sauce on the quesadilla or use the sauce as a dip to elevate the quesadillas to offer a brighter flavor.
Ingredients
4 fajita-sized flour tortillas
4 thin slices Black Forest or other smoked ham
2 ounces Brie, rind removed, sliced*
Peach Dipping Sauce
(Note: You can spread this mixture over the tortillas before layering on the ham and brie, or you can serve it as a dipping sauce.)
2 tablespoons peach or apricot preserves
Tabasco sauce, to taste
Directions
Place one tortilla on a flat surface.  Layer with half of the ham, half of the Brie and another tortilla. Repeat with remaining ingredients.
Spray a medium nonstick skillet with cooking spray. Heat over medium-high and add one quesadilla. Cook until golden, about 2 minutes.  Flip and cook on other side, 2 to 3 minutes longer.  Repeat with remaining quesadilla, slice into quarters and serve with the Peach Dipping Sauce on the side.
Makes 2-4 main dish servings.
*Place the Brie in the freezer for 10 minutes to simplify removing the rind and slicing.