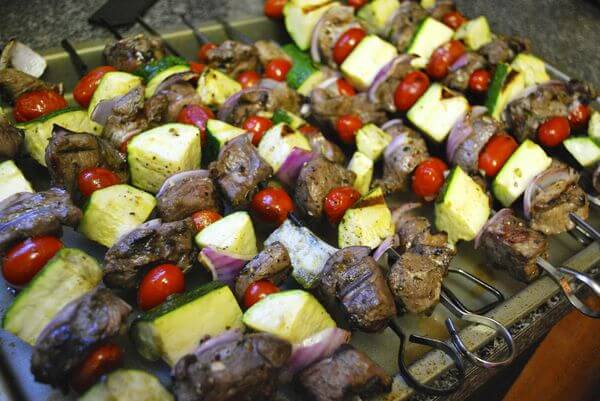 Ingredients
Lamb Kabobs
2 lb. boneless American Lamb leg or shoulder, cut into 1-1 ½-inch cubes
24 grape of cherry tomatoes
1 large purple onion, sliced
3-4 large zucchini, cubed
6 garlic cloves, minced
1 bunch of fresh oregano
A few sprigs of fresh rosemary
2 lemons, juiced
1 cup extra virgin olive oil
kosher salt
freshly ground black pepper
Tzatziki Sauce
(makes about 4 cups; would recommend halving the recipe)
1 tablespoon chopped dill
2 garlic cloves, minced
1 tablespoon extra-virgin olive oil
1/2 cup sour cream
16oz plain Greek yogurt
1 hothouse (or English) cucumber, grated and squeezed dry with paper towels
2 tablespoons fresh lemon juice
1 tablespoon white wine vinegar
Kosher salt
Freshly ground black pepper
Directions
Lamb Kabobs:
Combine garlic, oregano, lemon juice and olive oil in a small bowl. Season marinade with kosher salt and freshly ground black pepper. Add lamb cubes; toss to coat.
Cover and marinate in refrigerator 4 to 6 hours. Drain meat cubes; discard marinade.
Thread lamb, tomatoes and onion onto skewers. Grill on medium heat for 12 to 15 minutes or to desired degree of doneness; thermometer should register 145 degrees F for medium-rare, 160 degrees F for medium or 170 degrees F for well.
Turn kabobs several times, brushing with marinade. Serve with rice pilaf, warm pita bread and Tzatziki sauce.
Tzatziki Sauce
Combine the yogurt, sour cream, cucumber, lemon juice, vinegar, olive oil, dill, and garlic in a large bowl.
Season with salt and pepper, to taste.
Cover with plastic wrap and chill in the refrigerator for at least 3 hours.