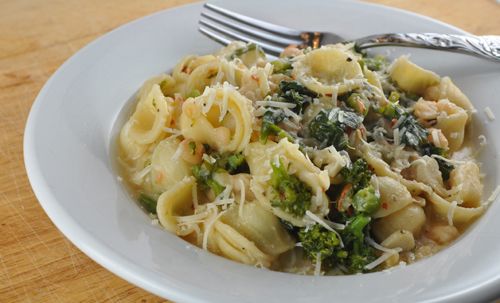 Change up your weekly rotation of meals for a treat that tastes like something you'd order at a restaurant when you cook up this Little Ears with Broccoli Raab and White Beans. This dish has a delicious orecchiette pasta base that is made in a basic buttery olive oil sauce. Full of broccoli raab and white beans, the pasta has plenty of texture and taste that makes it stand out. White beans add additional texture to the dish and help to make the pasta heartier and more filling. Finish the dish off with grated parmesan cheese to taste.
Ingredients
1/2 pound orcchiette or other pasta
3 tablespoons olive oil
1 teaspoon minced garlic, about 1 large clove
1/2 teaspoon red pepper flakes, or to taste
1 bunch broccoli raab, washed, tough stems removed and then cut into 2-inch pieces
Salt and freshly ground black pepper, to taste
1 can white beans (15 or 16 ounces), rinsed and drained
Freshly grated Parmesan cheese
Directions
Bring a large pot of  salted water to a boil and cook pasta according to package directions for al dente.
While you're waiting on the pasta, heat the olive oil in a large saute pan with a tight-fitting lid over medium-high heat. Add the garlic and red pepper flakes and cook for 1 minute. Add the broccoli raab and stir to coat with the garlic and oil. Season with salt and pepper and cover and cook for a few minutes, stirring occasionally, until tender.
Remove 1/4 cup of the pasta water from the pot before draining the pasta. Add the pasta, white beans and pasta water to the broccoli raab and cook, stirring, for a few minutes, until the white beans are heated through.
Serve, sprinkling each serving with Parmesan cheese.
Makes 4 servings.