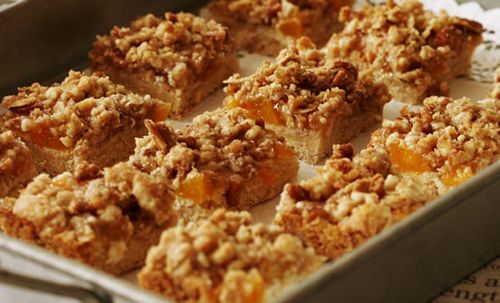 Peach cobbler is one of the many staples of Southern cuisine and is always found on the dessert tables of any family get together below the Mason-Dixon. With these Peach Cobbler Bars, you can capture all of the crumbly, sweet tartness of a southern peach in easier-to-eat pieces that the whole family can enjoy without cutting messy slices of cobbler. Combining sweet peaches, sweet brown sugar and nutty chopped pecans, this recipe stays true to traditional southern recipes and will quickly become a favorite among your house guests. The recipe makes around 12 servings to ensure everyone gets their fair share.
Ingredients
½ cup (1 stick) butter or margarine, divided
1 French vanilla cake mix
1 ¼ cups rolled oats, divided
1 egg, beaten
1 can peach pie filling
½ cup chopped pecans
¼ cup brown sugar, packed
½ teaspoon ground cinnamon
Directions
Preheat oven to 350 degrees.  Spray a 9-by-13-inch glass baking dish with nonstick cooking spray and set aside.
Melt 6 tablespoons of the butter.  Stir the cake mix, melted butter and rolled oats together in a large bowl until the mixture is crumbly.  Set aside 1 cup of the mixture.  Stir the beaten egg into the remaining mixture and press into the bottom of the prepared baking dish.  Spread the pie filling over the crust.
Melt the remaining 2 tablespoons of butter and stir together with the remaining crumb mixture, pecans, brown sugar and cinnamon.  Crumble evenly over the pie filling and bake for 40 to 45 minutes, until golden.  Cool completely before cutting into squares.
Makes 12 servings.