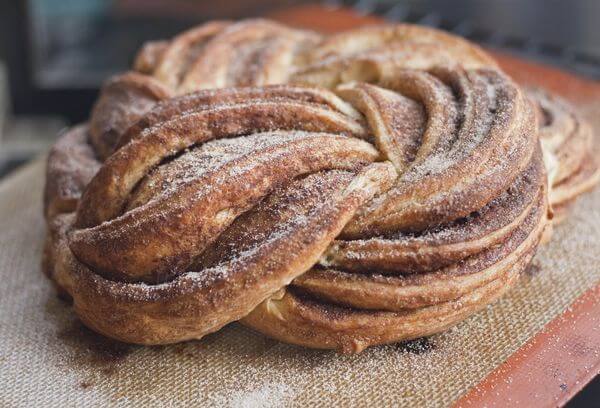 Ingredients
Dough:
2 cups flour
1/2 tsp salt
1/2 cup lukewarm milk
1 envelope active dry yeast
1/8 cup melted butter
1 egg yolk
1 tbsp sugar
Cinnamon filling:
1/4 cup softened butter
4-5 tbsp sugar
3 tsp cinnamon
Directions
Mix the lukewarm milk along with the yeast, sugar, melted butter and the egg yolk, and leave it for 10 minutes to activate and bubble.
Place the sifted flour and the salt into the mixing bowl, then knead the dough and shape into a ball.
Put the dough into a lightly greased bowl, cover with cling-film and set aside in a warm place, and let rise until doubled in size (about 1 hour).
Preheat oven to 400°.
Whisk together the butter with sugar and cinnamon for the filling.
Dust your work surface with flour, and roll the dough out to a rectangle about 8 x 12 inches in size, with a thickness of 1/4 inch.
Spread 3/4 of the cinnamon filling on top of the dough, leaving 1 good teaspoon, for brushing at the end.
Roll up the dough, and using a knife, cut the log in half length-wise, leaving one edge uncut for the last inch.
Twist the two halves together, keeping the open layers exposed as seen in the photo tutorial.
Give it a round shape, then transfer to a baking tray (buttered or covered a baking liner).
Brush with the remaining cinnamon/butter mixture.
Bake for 25 minutes, until golden brown. Drop the heat for the last 10 minutes 350°.
Glaze with icing.
Enjoy!