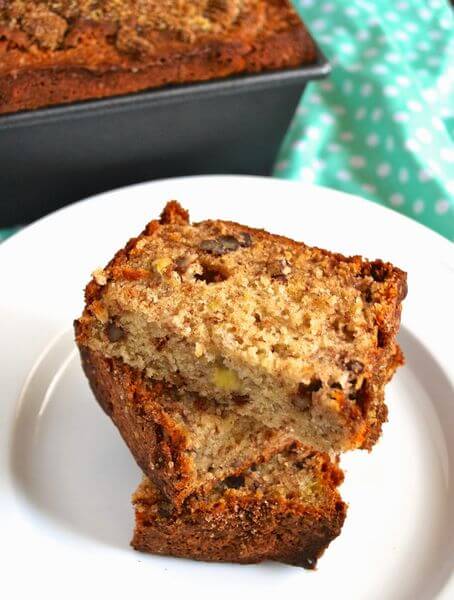 Ingredients
Bread:
1 ¼ cups sugar
½ cup butter or margarine, softened
2 eggs
1 ½ cups mashed very ripe bananas (3 to 4 medium)
½ cup buttermilk
1 teaspoon vanilla
2 ½ cups all purpose flour
1 teaspoon baking soda
1 teaspoon salt
1 teaspoon cinnamon
Caramelized Pecans:
1 tablespoon butter
2 tablespoons sugar
1 cup chopped pecans
2 tablespoons ground cinnamon
Directions
Preheat the oven to 350°F. Grease bottoms of 1 loaf pan, 9x5x3 inches.
For the caramelized pecans: Melt the tablespoon of butter over medium heat. Add the sugar, pecans, and cinnamon, and mix until evenly coated. Set aside and let cool.
For the banana bread: Mix together the sugar and butter. Add eggs and stir. Add bananas, buttermilk and vanilla, beating until smooth. Stir in flour, baking soda and salt just until moistened. Add in the nuts. Pour into prepared pans.
Mix 2 tablespoons sugar, 1 teaspoon cinnamon, and brown sugar; sprinkle generously over batter.
Bake loaf about 1 hour and 10 minutes, or until toothpick inserted in center comes out clean.