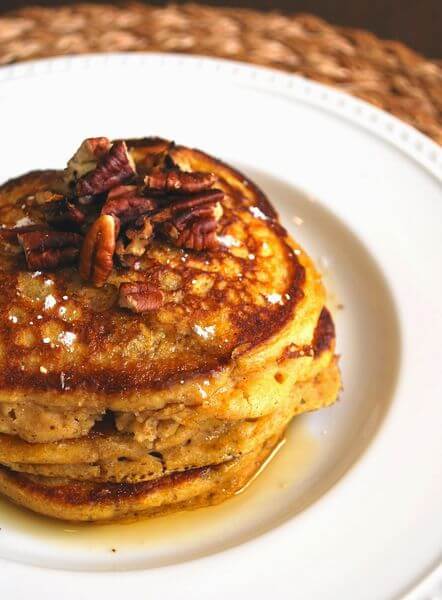 Ingredients
Buttermilk Pancakes:

1¾ cups flour, sifted*
1 teaspoon salt
1 teaspoon baking soda
2 cups buttermilk
2 teaspoons sugar
1½ teaspoons baking powder
2 eggs, beaten
2-4 tablespoons butter, melted
For Pumpkin Buttermilk Pancakes, add:
1 cup pumpkin puree
1 teaspoon ground cinnamon
½ teaspoon ground nutmeg
½ teaspoon ground ginger
¼ teaspoon ground cloves
¼ cup pecan pieces, toasted (optional, for topping)
Directions
Sift flour before measuring in a large mixing bowl. Then resift with sugar, salt, baking powder, and baking soda.
Mix eggs with buttermilk.
Combine dry ingredients with liquid ingredients, then add butter. Mix well, but with few strokes. Batter will be lumpy.
Cook on hot, greased griddle.