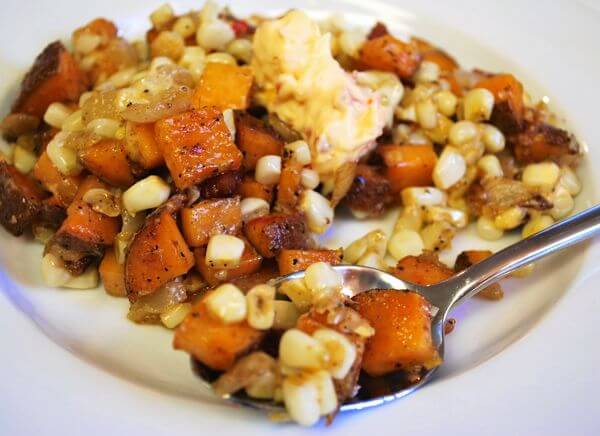 Ingredients
1 slice of bacon, cooked and chopped into small pieces
2 small or 1 large sweet potato
1 chopped sweet yellow onion
2 ears corn, shucked and cooked
Old Bay seasoning
1/2 cup Pimento cheese
Onion powder
Garlic powder
Salt
Pepper
Cajun seasoning
Extra virgin olive oil
2 tablespoons butter
Directions
Chop onion and sweet potatoes into 1/2 inch or 1 inch cubes (the smaller they are, the crispier they get while cooking). Cook two ears of corn however you'd like – I prefer to grill it.
Cook bacon in large skillet over medium high heat. Once cooked to desired crispiness, remove bacon from the pan to a paper towel lined plate. Once cooled, chop into very small pieces.
Lower heat to medium and add a big swirl of EVOO and 2 tablespoons butter to the skillet. Add the chopped onions and saute until tender and translucent, 4-5 minutes.
Add chopped sweet potatoes and additional oil if necessary. Season to taste with onion powder, garlic powder, salt pepper, and Cajun spices. I usually do 1 teaspoon of each and adjust as necessary. Cook in a single layer for about 7-9 minutes, stirring occasionally, until they are tender. Then, increase the heat to medium high and cook, without stirring, until the potatoes are golden and crisp, about 2 more minutes.
Gently add corn to skillet and season with Old Bay.
Add spoonfuls of Pimento Cheese spread to different sections of the skillet and stir to combine, melting the cheese into the hash. Add more as necessary. Serve hot, topped with additional Pimento Cheese, if desired.