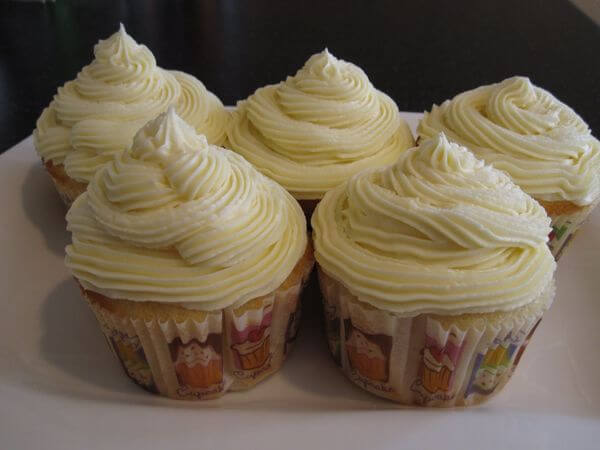 I found this recipe and knew I had to try it, as there's nothing I like more than a good Pina Colada. On the beach. In Mexico.
Ingredients
1 cup flour
1/4 tsp baking soda
1/2 tsp baking powder
1/8 tsp salt
1/4 cup butter, softened
1 scant cup sugar
2 egg whites
1 Tbsp pineapple juice
1 Tbsp rum – I used pineapple rum and let the Tbsp spill over a few seconds 🙂
3/4 cups buttermilk
1 to 2 tsp coconut extract (optional, but definitely recommended)
If you want to add a handful of shredded coconut, go for it…I don't particularly care for shredded coconut so I didn't use any…I decided to use coconut extract instead.
Rum Frosting
3/4 sticks butter, softened
3/8 cup shortening
3/4 tsp vanilla extract
3 cups powdered sugar
1 Tbsp rum – again, I used pineapple rum and let it spill over 😉
I also added about a tsp or two of coconut extract to the frosting…definitely worth it!
Directions
For the cupcakes (makes 12 by the way), mix together the flour, baking soda, baking powder, and salt in a medium bowl. In a large bowl, mix together the butter, sugar, pineapple juice, and rum. Add your egg whites. Add half of the flour mixture and then half of the buttermilk to the butter mixture, until well-blended. Repeat with the remaining halves of each. Pour into your cupcake pan and bake at 350 for about 20 minutes.
To make the icing, mix together the shortening, butter, and vanilla. Add in the powdered sugar and rum, and mix until well-blended.
Ice and enjoy!