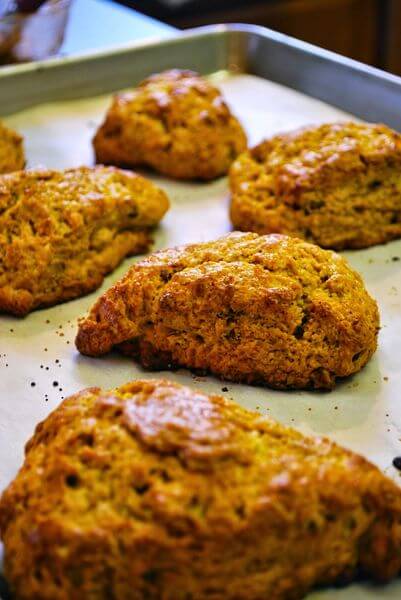 Ingredients
Scones:
½ cup granulated sugar
2 teaspoons baking powder
1 teaspoon ground ginger
½ teaspoon freshly grated nutmeg
¾ teaspoon ground cinnamon
½ teaspoon kosher salt
¼ teaspoon ground cloves
¼ teaspoon baking soda
2 cups all-purpose flour, plus more for surface
¾ cup (1½ sticks) chilled unsalted butter
½ cup chopped fresh (or frozen, thawed) cranberries OR pecans (optional)
1 large egg
½ cup canned pure pumpkin
¼ cup buttermilk, plus more for brushing
2 tablespoons raw sugar
1 cup pecans, chopped
Cinnamon Butter:
¼ cup (½ stick) unsalted butter, room temperature
1 teaspoon pure maple syrup
¾ teaspoon ground cinnamon
¼ teaspoon kosher salt
Directions
Mix butter, maple syrup, cinnamon, and salt in a small bowl.
Whisk granulated sugar, baking powder, ginger, nutmeg, cinnamon, salt, cloves, baking soda, and 2 cups flour in a large bowl. Using the large holes on a box grater, grate in butter, tossing to coat in dry ingredients as you go; toss in cranberries or pecans, if using. Mix in egg, pumpkin, and ¼ cup buttermilk.
Transfer dough to a lightly floured surface and pat into a 1½"-thick disk. Cut into 8 wedges; transfer to a parchment-lined baking sheet. Freeze until firm, 25 minutes.
Preheat oven to 400F. Brush scones with buttermilk and sprinkle with raw sugar. Bake until golden brown, 25–30 minutes. Serve with cinnamon butter. Wrap any leftovers airtight, and store at room temperature. Reheat very briefly in the microwave, if desired.