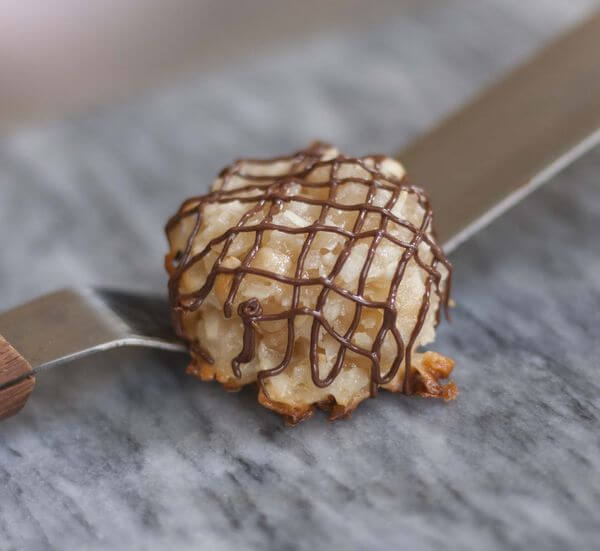 Ingredients
4 large egg whites
12 ounces sweetened flaked coconut, divided
7 Tablespoons all-purpose flour
2/3 cup granulated sugar
6 Tablespoons unsalted butter
1/4 + 1/8 teaspoon salt
6 – 8 ounces dark (at least 60%) chocolate, chopped
1/2 tsp coconut oil (optional)
Directions
Whisk egg whites in a large bowl. Add half of coconut and flour, stir with a spatula or wooden spoon until combined. Set aside remaining coconut.
In a 4-quart or larger saucepan over medium-high heat, combine butter and sugar. Cook, stirring occasionally, until caramel reaches a rich coppery color. (Caramel may looks separated with a layer of butter on top. Don't panic.) Remove from heat. Carefully add reserved coconut and salt (Caution: may spatter!), and stir to combine. Cool about 5 minutes.
Add about 1/4 cup of the caramel mixture to the egg white mixture at a time, stirring vigorously to combine and prevent cooking the eggs. Refrigerate for at least 30 minutes. Mixture should be wet but not too loose or runny.
Preheat oven to 350°F. Line a baking sheet or two with parchment or Silpats. Scoop cookies between 1 1/2 and 2 tablespoon size, and place about 1-inch apart on baking sheet. (Return any remaining mixture to the fridge until read to bake.) Bake at 350°F for 12-14 mins, or until bottoms are golden brown. Cool about 2 minutes on the pan, then move to wire racks to cool completely.
Place chocolate and (optional) coconut oil in a small, microwave-safe bowl and heat in 30 second intervals on High until chocolate starts to melt. Continue heating in 15 second intervals, stirring well between each, until melted and smooth. Dip cookie bottoms in chocolate and set on wax paper. Drizzle remaining chocolate over top. Allow chocolate to harden at room temperature, or pop cookies in the fridge to speed the process up.