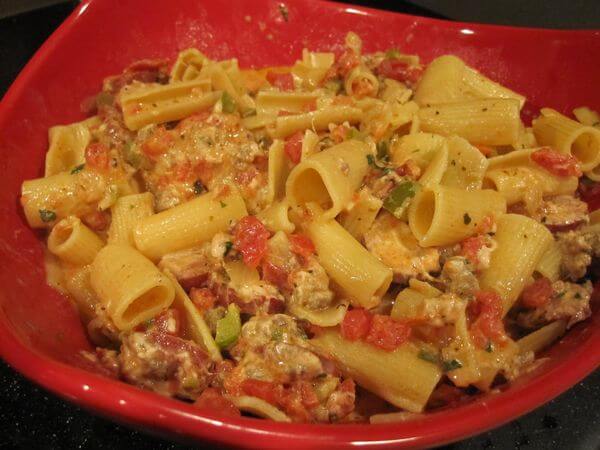 Ok, so I've been wanting to make a spicy sausage pasta for a while now…not sure why…maybe it's because I always use chicken in any pasta dish I cook…anyways, I found a few different recipes on the internet that looked interesting, changed 'em up a bit, and here's the outcome:
Ingredients:
1 pound italian sausage
1 pound beef link sausage
1 small chopped onion
1 jalapeno, chopped
3 cloves garlic, chopped
1 green bell pepper, chopped
1 heaping teaspoon Paprika
1 heaping teaspoon Italian seasoning
Salt and pepper
1 can diced tomatoes
1/3 cup vodka
1 cup half & half
1 pound rigatoni
1 cup grated Asiago cheese
Chopped fresh basil
Chopped fresh parsley
Directions
Bring a pot of water to boil for the pasta. In a large saute pan over medium heat brown italian sausage and add your cut-up beef sausage link. Add onions, jalapenos and garlic and saute until softened, about 5 minutes. Add green pepper, paprika, Italian seasoning, salt and pepper, to taste, and cook a few minutes more.
Add your pasta to your boiling water and cook until al dente. Add your can of tomatoes to the meat skillet and simmer for about 10 minutes or so.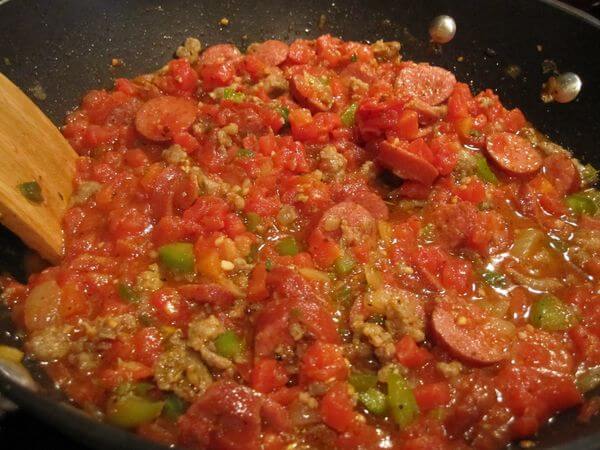 Now, add the vodka and half & half, and cook a few minutes more. Feel free to add real cream if you feel like living on the wild side. I'll stick with the half&half…it makes me feel better about myself.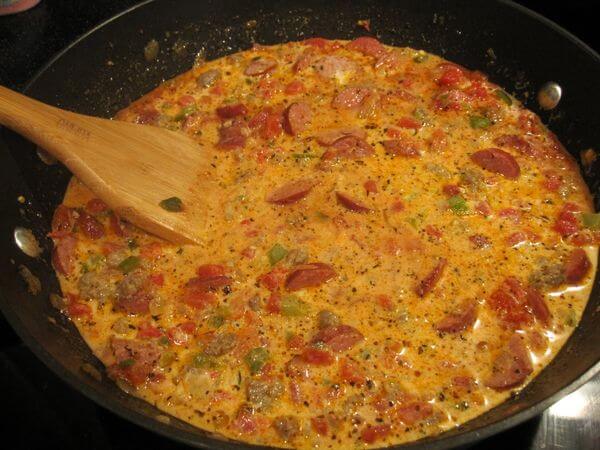 Now, when everything is done, add your pasta to a big bowl, pour in your skillet creation, throw in your grated cheese and fresh herbs, give it a good mixin' and you're ready to eat!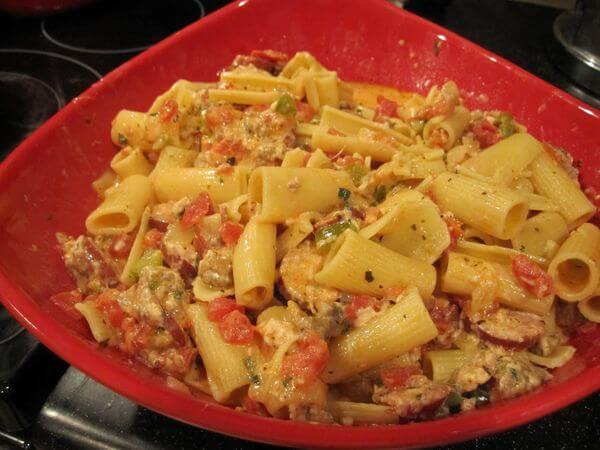 This is absolutely delicious. I've made it twice in about a 2-3 week span. Oh, I forgot to tell you…I also sprinkled in some red pepper flakes to my meat/onion/tomato skillet while it was cooking. Just to give it a little extra kick.
Enjoy!