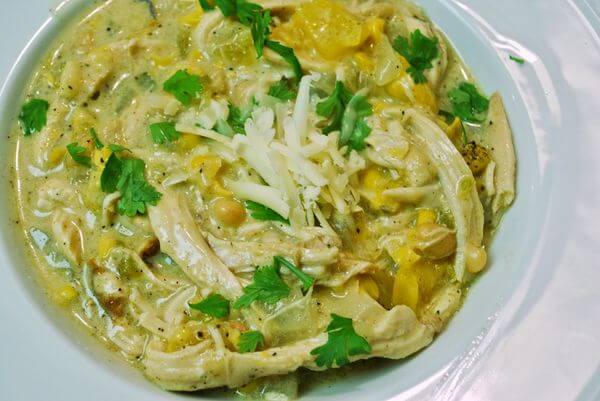 Ingredients
1 teaspoon extra virgin olive oil
1 medium onion, peeled and diced
1 yellow pepper, seeded and chopped
1 tablespoon jalapeño chile, minced
1½ teaspoon ground cumin
1 can cream style corn
1 can mild or hot chilies, diced
2 cups whole milk
1 can navy beans, rinsed and drained
2 cups chicken breast, cooked and shredded (rotisserie works great!)
1 cups shredded white cheddar cheese
Salt and pepper to taste
Directions
In a large saucepan combine oil, onion, pepper, and jalapeño chile. Stir often and over high heat until limp, about 3-4 minutes.
Add cumin, corn, green chilies, milk, and beans. Bring to a boil, reduce heat and cover. Simmer, stirring to blend flavors for about 10 minutes.
Stir in chicken and season with salt, pepper, and a dash more cumin.
Serve with shredded cheese, sour cream, and cilantro.